← Back to Product Listing
Spiral LILY incense burner, incense holder, ceramic reed diffuser joss stick burner scent stick holder candle holder white porcelain zen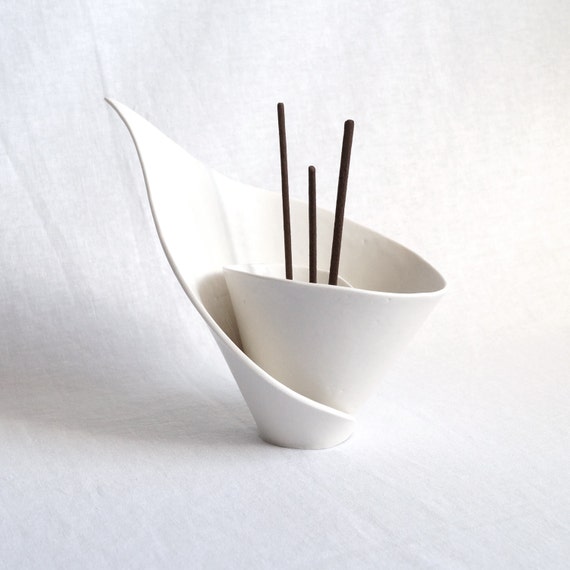 Currently ready to ship in 3 - 5 weeks.
This spiral porcelain lily is primarily an incense burner which is designed to catch the trails of ash. It can also be used to hold reeds (that have been pre soaked in oil), tealights and candles. This innovative design is great for contemporary interiors and fits in perfectly with zen or scandi decor. The removable stamen is included.
Hand built in a spiral of porcelain clay with a thick and sturdy base.
White satin glaze all over.
Several holes in centre to hold burning incense sticks or reeds.
If you would like the holes made in a specific size please let me know.
180 mm wide x 165 mm high approx.
Not water tight due to the spiral form.
Wash carefully by hand.
Unglazed porcelain stamen. (You can colour with acrylic paint to match your decor.)
Please allow for slight differences due to the hand made processes. Yours will be just as beautiful as the one shown.
This bowl was inspired by the beautiful Calla lilies growing in my neighbour's garden. In one of those rare lightbulb moments I could see it in a spiral of clay. And because I had been designing incense burners at the time, I saw joss sticks for the stamens. I love the simplicity and elegance of white lilies and any spiritual association with them is fitting as this bowl can be incorporated into meditation or prayers.
Copyright and Designright Jude Winnall 2017.
Jude Winnall is a member of and supports the work of ACID (Anti Copying in Design). All the intellectual property rights in the designs and products (including the images, text, packaging and marketing material) are and will remain the property of Jude Winnall. Any infringements will be taken seriously www.acid.uk.com