← Back to Product Listing
PEBBLE porcelain bowl set, cobalt blue bubbles, ceramic bowls, candle bowl, jewellery bowl, serving bowl, bathroom accessory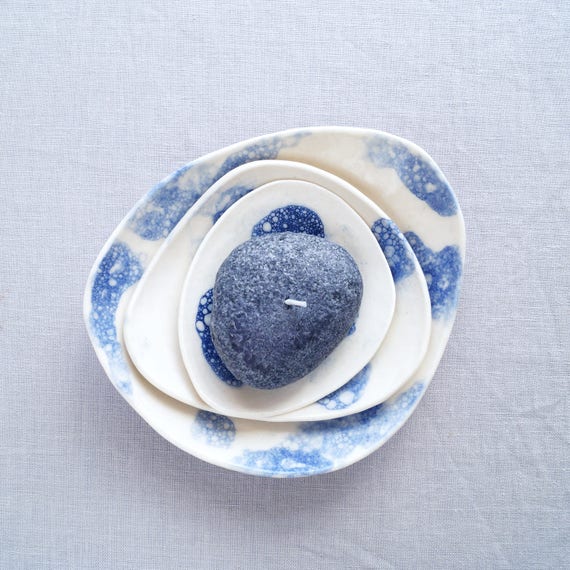 These three pebble shaped bowls have a unique and attractive bubble print. They can be used for serving food, holding soap, candles or jewellery. The pebble candle is included.
Hand crafted in white porcelain clay.
Cobalt blue bubble impressions under shiny glaze.
Fired in my kiln.
Gently curved pebble shapes.
One set of three bowls.
Largest bowl: 164 mm widest point x 30mm high approx.
Medium size: 129 mm widest point x 25 mm high approx.
Smallest bowl: 107 mm widest point x 15 mm high approx.
Food, microwave and dishwasher safe.
Ready to ship within 3 working days.
Each one has a unique design due to the natural bubbles that are created. Your bowl may be different to the one shown but it will be just as beautiful.
Copyright and Designright Jude Winnall 2017.
Jude Winnall is a member of and supports the work of ACID (Anti Copying in Design). All the intellectual property rights in the designs and products (including the images, text, packaging and marketing material) are and will remain the property of Jude Winnall. Any infringements will be taken seriously www.acid.uk.com