← Back to Product Listing
Black and white porcelain CRUET set with spoons, salt and pepper pinch pots monochrome geometric scandinavian ceramic scandi serving bowls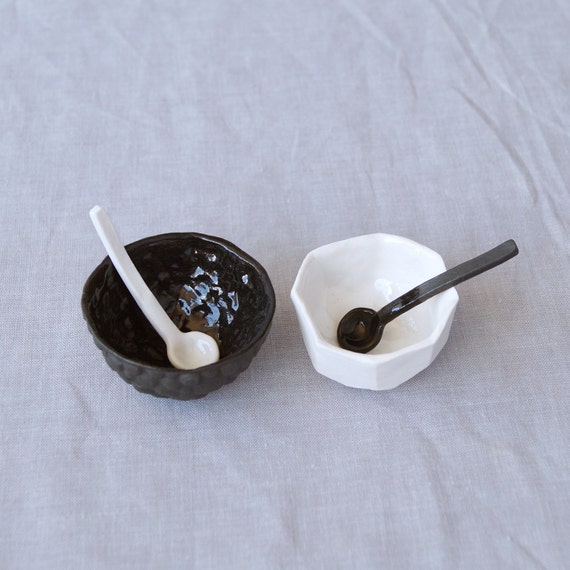 This black and white cruet set is a simple and modern alternative to salt and pepper shakers. The salt bowl is shaped like a geometric salt crystal in white porcelain clay and the pepper bowl is shaped like a peppercorn with a knobbly black unglazed surface.
Both bowls have a shiny glaze on the inside.
Bowls 64 mm diameter x 33 mm high approx.
Matching spoons may be curvy or straight shape and are glazed at the bowl end.
Spoons 74 mm x 18 mm approx.
Food safe, microwave and dishwasher safe.
Gift box included 100 x 100 x 100 mm.
Ready to ship within 3 working days.
Please allow for slight differences due to the hand made processes. Yours will be just as beautiful as the ones shown.
The design for this set was conceived in 2012 but it took several attempts to get the colouring and glazes to my satisfaction. I also experimented with slip-casting techniques which proved to be successful as it resulted in lighter bowls. I completed the design in 2015 with the addition of matching spoons.
Copyright and Designright Jude Winnall 2016.
Jude Winnall is a member of and supports the work of ACID (Anti Copying in Design). All the intellectual property rights in the designs and products (including the images, text, packaging and marketing material) are and will remain the property of Jude Winnall. Any infringements will be taken seriously www.acid.uk.com