← Back to Product Listing
UNFOLDING No6 white porcelain vase, white glaze, celadon glaze, artisan vase, freeform vase, sculpted vase, sculptural vase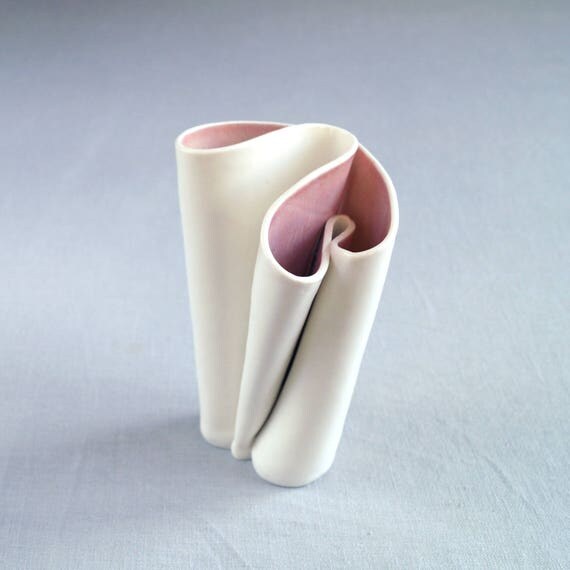 Pink glaze version currently ready to ship within 3 working days.
UNFOLDING 6 vase has a beautiful freeform shape where the clay has been artfully manipulated into natural folds. The inside is glazed in a choice of colours and the outside is glazed in luxurious satin white.
The folds in this vase are great for holding a single flower or just a few stems.
Sculpted in white porcelain clay.
130 mm tall x 75 mm approx.
Fired in my kiln.
Water tight.
These glaze choices can be ready to ship in 3 - 5 weeks:
Shiny Aqua
Matt blue
Shiny Midnight
Shiny Celadon blue (as shown)
Please contact me for one of these alternative colours.
Due to the individual hand making process every vase will have different folds but the vase will be just as beautiful as the one shown.
----------------------------------------------
Ceramics in the "Freeform" collection is inspired by draped fabrics from my dressmaking days. This vase is very difficult to make. The clay has to be wet enough so it can be manipulated into shape but dry enough so it does not collapse. Even if I have successfully formed the vase it can distort in the kiln during firing - but only the perfect ones are offered for sale.
........................................................
Copyright and Designright Jude Winnall 2017.
Jude Winnall is a member of and supports the work of ACID (Anti Copying in Design). All the intellectual property rights in the designs and products (including the images, text, packaging and marketing material) are and will remain the property of Jude Winnall. Any infringements will be taken seriously www.acid.uk.com