← Back to Product Listing
PEACE AND LOVE berry bowl set. Dining and serving fruit bowls, white porcelain, ceramic glaze, geometric hole design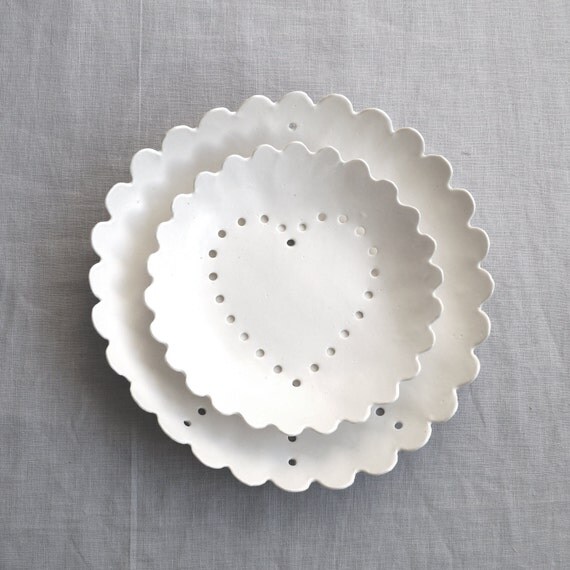 These shallow bowls feature holes in a heart / peace sign arrangement and scalloped edges. The holes help the water drain away so your rinsed food (like grapes, berries, soft fruit or salad) doesn't sit in a puddle. Place the bowls on your own plates to display fruit or serve berries at the table.
Set of two bowls.
Satin white glaze.
Peace bowl 240 mm diameter x 32 mm high approx.
Love bowl 170 mm diameter x 28 mm high approx.
Wash carefully by hand.
Please allow for slight differences due to the hand made processes. Yours will be just as beautiful as the ones shown.
Copyright and Designright Jude Winnall 2016.
Jude Winnall is a member of and supports the work of ACID (Anti Copying in Design). All the intellectual property rights in the designs and products (including the images, text, packaging and marketing material) are and will remain the property of Jude Winnall. Any infringements will be taken seriously www.acid.uk.com