← Back to Product Listing
OLIVE spoon, heart love spoon, white porcelain dining serving spoon, ceramic glaze, heart hole design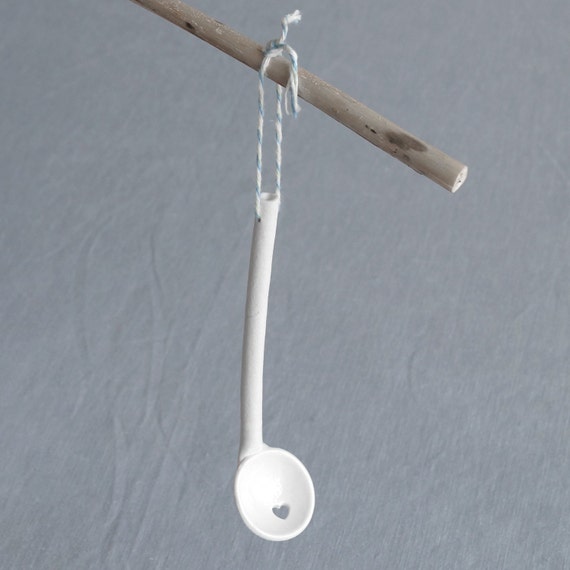 Welsh love spoons were traditionally made of wood and carved by one sweetheart to give to another. This porcelain spoon is a modern version and living in wonderful Wales inspired the design. It features a sweet little heart hole, angled bowl and long handle - all very useful to get those olives out of tall jars. Or it can simply be hung as a decoration.
Satin white glaze both sides*.
Fitted with cotton cord.
150 mm long with 38 mm diameter bowl approx.
Wash carefully by hand.
*Spoons that are glazed on all sides are very difficult to fire in a kiln so I made a special piece of kiln furniture to accommodate these designs (as shown). However the handles tend to bend a little despite their customised prop but I think it adds to their hand made charm! So please allow for slight differences due to the hand made processes and yours will be just as beautiful as the one shown.
Copyright and Designright Jude Winnall 2015.
Jude Winnall is a member of and supports the work of ACID (Anti Copying in Design). All the intellectual property rights in the designs and products (including the images, text, packaging and marketing material) are and will remain the property of Jude Winnall. Any infringements will be taken seriously www.acid.uk.com