← Back to Product Listing
LINEN & LACE white porcelain jar with lid, bathroom storage, jewellery holder, freeform white lace pretty pink soft red ceramic glaze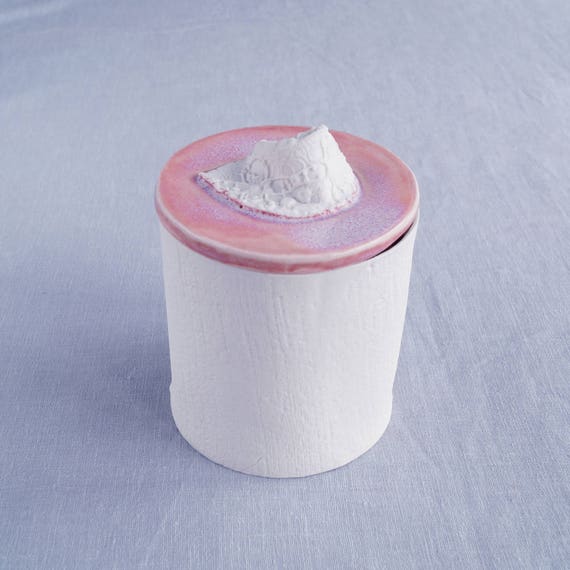 This cylindrical porcelain jar has a fresh linen texture and a freeform lace detail on a solid, loose fit lid. It would be lovely in the bathroom or bedroom and useful for storing jewellery, cotton wool, etc.
Pink/soft red glossy glaze on the lid and inside the jar.
Lace detail knob is unglazed.
Unglazed on the outside so the intricate details and the clay's translucent qualites can be appreciated.
105 mm tall x 90 mm diameter approx.
Beautiful gift box included.
Ready to ship in 3 working days.
Ceramics in the "Linen & Lace" collection are impressed with offcuts of fabric from my dressmaking days. These include my wedding dress, vintage doilies crocheted by Grandma and silk linen from Libertys. My family sews, knits, crochets and quilts – so these ceramics evoke some fond memories. The clay is very responsive to the texture of the fabrics and I like to use its fluid qualities as much as possible.
Copyright and Designright Jude Winnall 2017.
Jude Winnall is a member of and supports the work of ACID (Anti Copying in Design). All the intellectual property rights in the designs and products (including the images, text, packaging and marketing material) are and will remain the property of Jude Winnall. Any infringements will be taken seriously www.acid.uk.com