← Back to Product Listing
Porcelain POPPY bowl and leaf platter set, nesting bowls white aqua cobalt blue ceramic glazes sculpted flower leaf pattern plate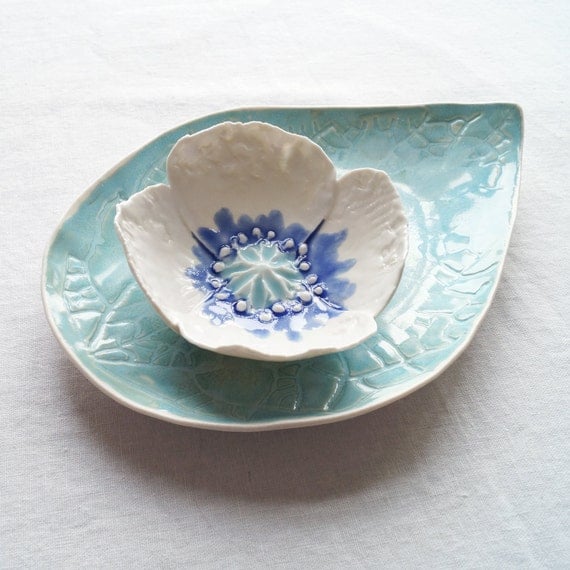 This pretty set has one poppy bowl and one leaf platter in ceramic porcelain clay.
POPPY BOWL
This translucent poppy bowl has four overlapping lace textured petals and an expressive centre artfully formed in white porcelain.
Cobalt blue and celadon ceramic glazes have pooled in the recessed areas.
Shiny white glaze on the petals and on underside.
11 cm diameter x 4 cm high approx.
LEAF PLATTER
Irregular shape.
Gently curved plate in white porcelain has a recessed vein pattern.
Soft aqua glaze enhances the texture perfectly.
23 cm x 17 cm approx.
Fired in my kiln.
Wash carefully by hand
Please allow for slight differences due to the hand made processes. Yours will be just as beautiful as the one shown.
Ready to ship within 3 working days. The set will be sent via Royal Mail Special Delivery and should arrive the day after posting.

-------------------------------------
The poppy is another favourite flower of mine – I love the geometry of its four petals which are paper thin. The poppy centres are very attractive and I have interpreted these with sculptural techniques and wonderful glaze combinations. The poppy leaf however is rather too fancy so I designed the leaf platter to complement the poppy bowl's colour and shape.
--------------------------------------
Copyright and Designright Jude Winnall 2016.
Jude Winnall is a member of and supports the work of ACID (Anti Copying in Design). All the intellectual property rights in the designs and products (including the images, text, packaging and marketing material) are and will remain the property of Jude Winnall. Any infringements will be taken seriously www.acid.uk.com