← Back to Product Listing
COLLECTED No6 long necklace artisan beads on long denim blue silk string, celadon glaze white porcelain ceramic necklace, artisan necklace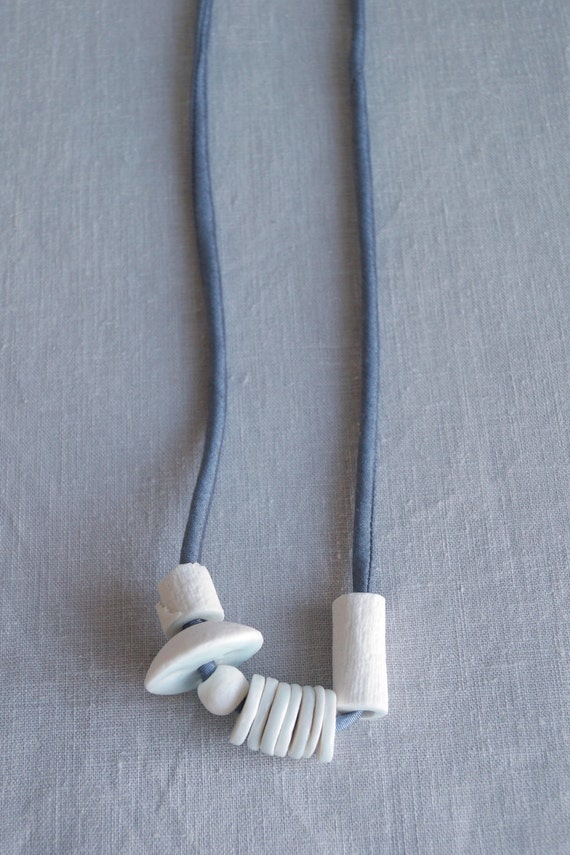 These tactile porcelain beads hang beautifully on a soft silky rouleau cord. This is a longer fashioned necklace which is lightweight and easy to wear.
Eleven assorted artisan beads.
Impressed with linen textures.
Hand crafted in white porcelain ceramic clay.
Glossy celadon blue glaze.
Made by me and fired in my kiln.
Blue rouleau cord 80 cm long (32 inches), 5 mm diameter.
Ends glued into tubular bead.
Easy, over the head style.
Gorgeous gift box included.
Ready to ship within 3 working days.
Jewellery in the "Affinity with fabric" collection is inspired by years of dressmaking and working with beautiful fabrics. I have fond memories of shopping in Libertys, John Lewis and designer sales in London. Linen silk is particularly lovely to handle and it's very satisfying now to use the offcuts in clay so that the pieces emulate fabric. The beautiful folds and ruffles are immortalised in porcelain when fired in the kiln.
Copyright and Designright Jude Winnall 2017.
Jude Winnall is a member of and supports the work of ACID (Anti Copying in Design). All the intellectual property rights in the designs and products (including the images, text, packaging and marketing material) are and will remain the property of Jude Winnall. Any infringements will be taken seriously www.acid.uk.com