← Back to Product Listing
PALM ring dish, porcelain soap dish ceramic hand coin bowl candle holder bathroom accessory matt blue glaze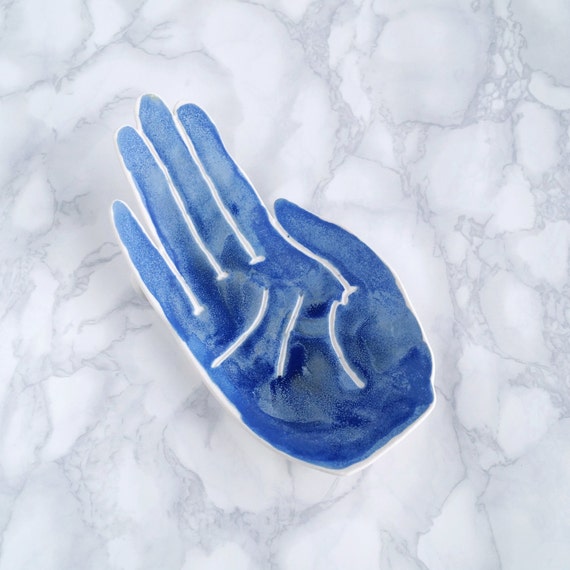 Hand shaped ring or jewellery dish with an interesting glaze. Also soap dish, candleholder or cone incense burner.
Made to order in 3-5 weeks.
Hand built in porcelain clay.
NEW matt blue glaze (replaces the chun blue glaze). On palm.
Unglazed palm lines.
Fired in my kiln.
Fitted with either four domed feet (shown) or with an oval ring foot (not shown).
180 mm x 90 mm approx (life size).
Please allow for slight differences due to the hand made processes. Yours will be just as beautiful as the one shown.
Dishwasher safe.
This dish is modelled on my daughter's beautiful hand which is long and slender.
Copyright and Designright Jude Winnall 2016.
Jude Winnall is a member of and supports the work of ACID (Anti Copying in Design). All the intellectual property rights in the designs and products (including the images, text, packaging and marketing material) are and will remain the property of Jude Winnall. Any infringements will be taken seriously www.acid.uk.com