← Back to Product Listing
COLLECTED No8 porcelain necklace, porcelain beads, celadon blue ceramic glaze, non tarnish stainless steel mesh chain, asymmetric necklace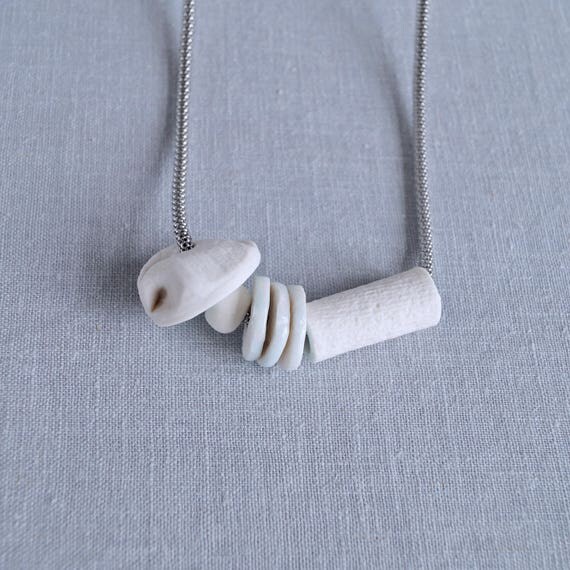 Gorgeous tactile porcelain beads with linen textures and blue glaze lining are strung on a stainless steel mesh chain necklace.
Hand crafted beads in white porcelain ceramic clay.
Glossy celadon blue glazes.
Six assorted and uniquely shaped beads.
Largest bead 25 x 11 mm approx.
Smallest bead 10 mm approx.
Stainless steel mesh chain 50 cm long (20 inches), 3 mm diameter - does not tarnish.
Silver plated hook and ring clasp.
Gorgeous gift box included.
Currently ships within 3 working days.
Jewellery in the "Affinity with fabric" collection is inspired by years of dressmaking and working with beautiful fabrics. I used a piece of vintage linen silk from Libertys in London to create the textures in this necklace.
Copyright and Designright Jude Winnall 2016.
Jude Winnall is a member of and supports the work of ACID (Anti Copying in Design). All the intellectual property rights in the designs and products (including the images, text, packaging and marketing material) are and will remain the property of Jude Winnall. Any infringements will be taken seriously www.acid.uk.com