← Back to Product Listing
JEANS man bowl, ceramic coin bowl, ceramic denim bowl, valet tray, key bowl, pocket bowl, bits and bobs, gift for him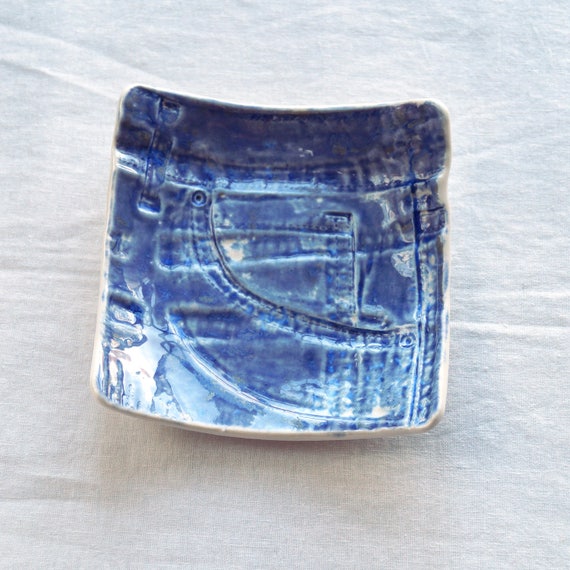 This JEANS coin bowl / valet tray is great for pocket contents, keys and other bits and bobs. The porcelain clay has been impressed with an old pair of jeans capturing the rivets, creases, stitching and fine details. The denim blue glaze captures the details perfectly.
Hand formed in white porcelain clay.
Denim blue ceramic glaze.
Fired in my kiln.
150 mm square approx.
Food, microwave and dishwasher safe.
Ready to ship within 3 working days.
Each impression is unique and each glaze is unique. Yours will be just as wonderful as the bowl shown.
Copyright and Designright Jude Winnall 2017.
Jude Winnall is a member of and supports the work of ACID (Anti Copying in Design). All the intellectual property rights in the designs and products (including the images, text, packaging and marketing material) are and will remain the property of Jude Winnall. Any infringements will be taken seriously www.acid.uk.com