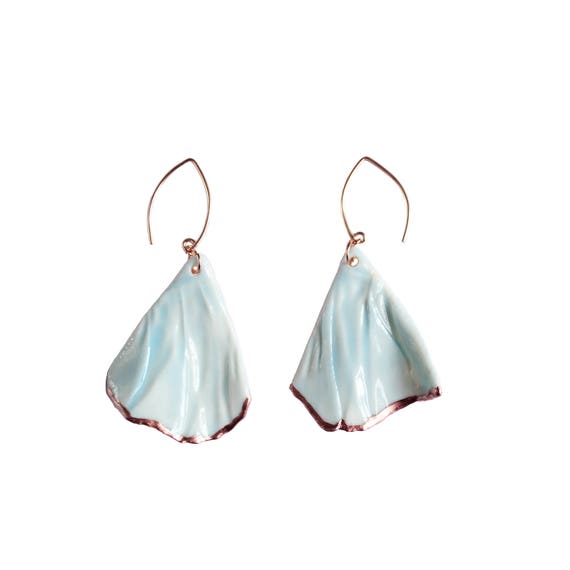 Contemporary ceramic dangle earrings with rose gold vermeil wires.
Hand crafted in white porcelain ceramic clay.
Cerulean blue glaze defines the texture beautifully.
Fired in my kiln.
Rose gold enamel accents.
Rose gold vermeil (quality plating on sterling silver) ear wires.
Gorgeous gift box included.
Currently ships within 3 working days.
Jewellery in the "Affinity with fabric" collection is inspired by years of dressmaking and working with beautiful fabrics. I have fond memories of shopping in Libertys, John Lewis and designer sales in London. I ruched a piece of satin to create the textures in these earrings and it's very satisfying to see it immortalised in the porcelain after they were fired in the kiln.
Copyright and Designright Jude Winnall 2016.
Jude Winnall is a member of and supports the work of ACID (Anti Copying in Design). All the intellectual property rights in the designs and products (including the images, text, packaging and marketing material) are and will remain the property of Jude Winnall. Any infringements will be taken seriously www.acid.uk.com