← Back to Product Listing
Small RECEIVING HANDS bowl, aqua turquoise porcelain bowl, ceramic hand bowl, candle bowl, giving bowl, begging bowl collection bowl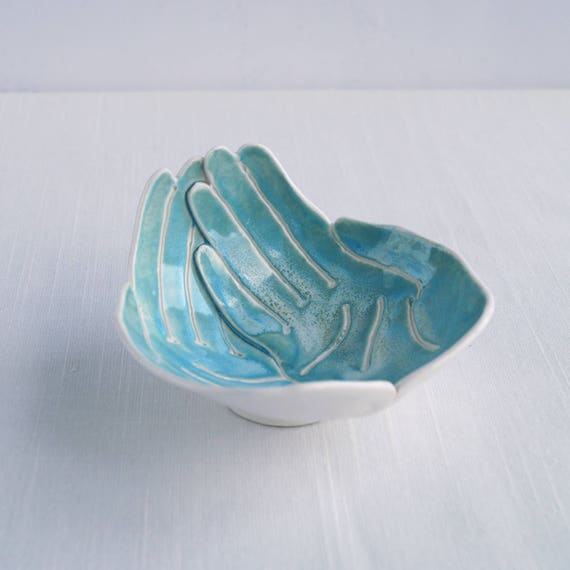 Child size hands, this RECEIVING bowl is light but strong with an aqua turquoise glaze. Lovely for holding cotton wool or other bathroom bits and bobs.
Hand built in porcelain clay.
Shiny aqua turquoise glaze on the inside.
Unglazed lines.
Shiny white glaze on the underside.
Fired in my kiln.
130 mm x 120 mm x 65 mm high approx.
Please wash carefully by hand.
Currently ready to ship within 3 working days.
Please allow for slight differences due to the hand made processes. Yours will be just as beautiful as the one shown.
-------------------------------------
Available to order in other colours:
Blush pink
Blue grey
Chun blue
Matt blue
Will be ready to ship in 3 - 5 weeks. Please contact me!
-------------------------------------
Copyright and Designright Jude Winnall 2017.
Jude Winnall is a member of and supports the work of ACID (Anti Copying in Design). All the intellectual property rights in the designs and products (including the images, text, packaging and marketing material) are and will remain the property of Jude Winnall. Any infringements will be taken seriously www.acid.uk.com