← Back to Product Listing
RUCHED No9 geometric heart brooch, white porcelain brooch, blue grey glaze, sterling silver wire, geo brooch, asymmetric ceramic brooch,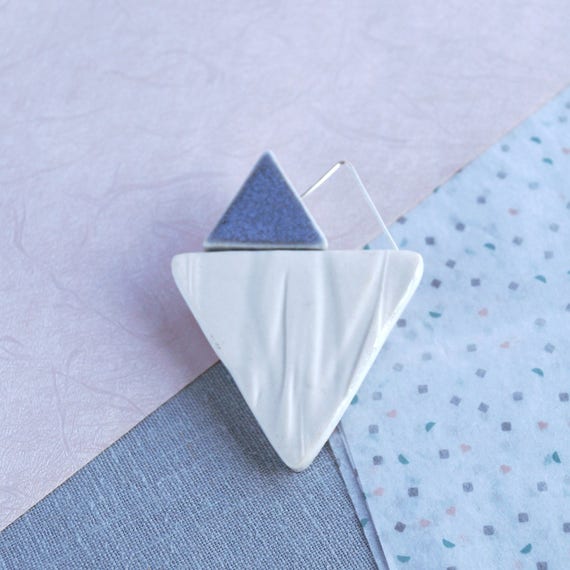 RUCHED No9 geometric heart brooch with two glazed porcelain triangles.
Hand crafted in white porcelain ceramic clay and sterling silver wire.
Ruched texture on larger triangle is unglazed so the porcelain's beautiful raw purity can be appreciated.
Smaller triangle has blue grey satin glaze.
Fired in my kiln.
Sterling silver wire 1 mm thick.
Overall size 86 x 50 mm approx.
Gorgeous gift box included.
Currently ships within 3 working days.
I ruched a piece of satin to create the texture in this brooch. Jewellery in the "Affinity with fabric" collection is inspired by years of dressmaking and working with beautiful fabrics. I have fond memories of shopping in Libertys, John Lewis and designer sales in London.
Copyright and Designright Jude Winnall 2017.
Jude Winnall is a member of and supports the work of ACID (Anti Copying in Design). All the intellectual property rights in the designs and products (including the images, text, packaging and marketing material) are and will remain the property of Jude Winnall. Any infringements will be taken seriously www.acid.uk.com