← Back to Product Listing
SECONDS: Welsh MOUNTAIN ring cone set of 3, ceramic porcelain blue and white glaze, stacking rings jewellery storage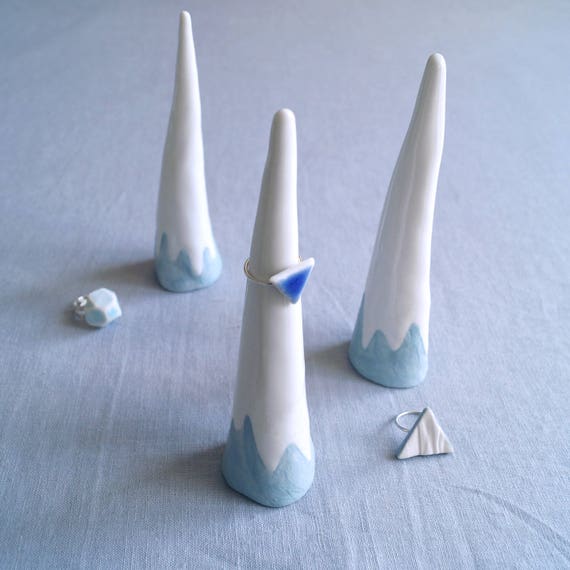 Inspired by the snowy Welsh mountains where I live, this set of three tall porcelain ring cones will be a safe and sturdy place to store and display favourite rings.
Hand crafted in white porcelain clay.
Matt grey/blue colouring with thick shiny white glaze.
Dishwasher safe.
Height 150 mm approx.
Three ring cones supplied.
Rings not included.
These are sold as seconds/imperfect. You will receive the set as shown. They are a little bit mal-shaped but stable. Otherwise ok with beautiful glazes. I'm sorry they are non-returnable.
Currently ready to ship within 3 working days.
Copyright and Designright Jude Winnall 2017.
Jude Winnall is a member of and supports the work of ACID (Anti Copying in Design). All the intellectual property rights in the designs and products (including the images, text, packaging and marketing material) are and will remain the property of Jude Winnall. Any infringements will be taken seriously www.acid.uk.com