← Back to Product Listing
SECONDS: 2 PALM ring dishes, life size satin blue grey glaze ceramic hand bowls, porcelain hand dishes ceramic coin bowl hand bowl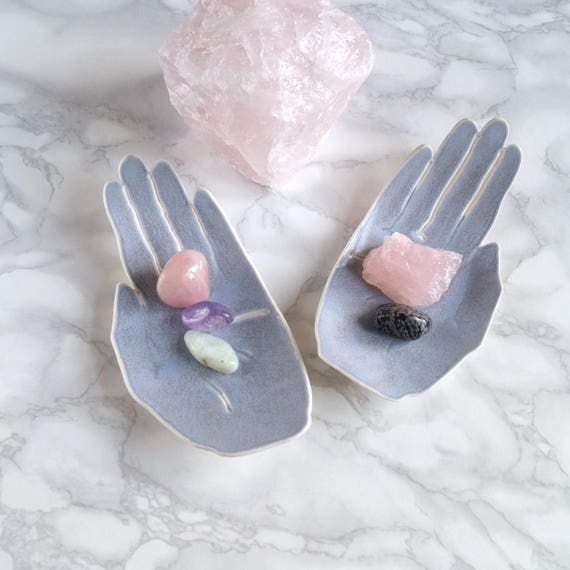 Two hand shaped ceramic ring dishes or jewellery bowls with contrasting palm lines and an interesting glaze. This porcelain PALM can also be used as a soap dish, candleholder or incense burner.
Hand built in porcelain clay.
Satin blue grey glaze on palms.
Unglazed palm lines.
Fired in my kiln.
Oval ring foot.
180 mm x 90 mm approx (life size).
Dishwasher safe.
Currently ready to ship within 3 working days.
This is a pair of second/imperfect dishes at half price. The glaze has run into the palm lines but you may like that effect. They are otherwise ok and usable. I'm sorry they are non-returnable.
Rings, soap nor crystals included.
Copyright and Designright Jude Winnall 2017.
Jude Winnall is a member of and supports the work of ACID (Anti Copying in Design). All the intellectual property rights in the designs and products (including the images, text, packaging and marketing material) are and will remain the property of Jude Winnall. Any infringements will be taken seriously www.acid.uk.com