← Back to Product Listing
Ceramic soap dish and tray set, BUBBLE holes design, midnight white glaze, porcelain soap dish, bathroom accessory, counter top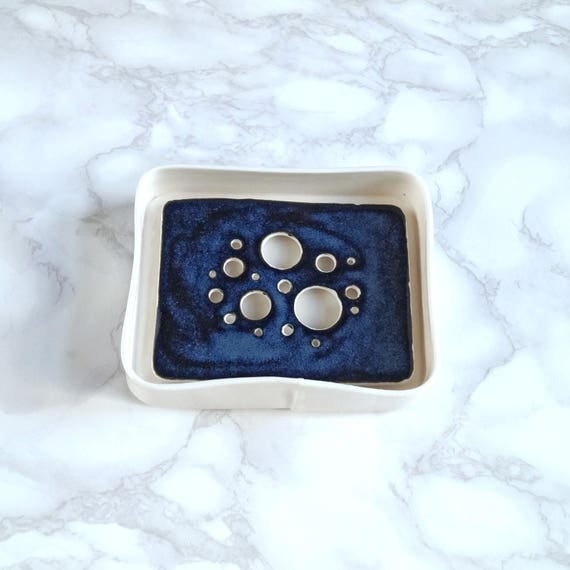 Currently ready to ship within 3 working days.
Handmade ceramic porcelain soap dish with bubble holes sitting inside a drip tray. Suitable for bathrooms with counter tops.
SOAP DISH
Designed to sit inside tray and easy to remove.
Midnight glaze.
Holes to drain the soap.
Silicone domed feet*.
Soap dish 84 mm x 110 mm approx.
TRAY
Tray with flat base and walls.
Due to the hand made aspect, the tray walls are curvy but this does not hinder its function.
Shiny white glaze all over.
Designed to catch the drips from the soap dish.
Domed silicone feet*.
Tray 128 mm x 96 mm x 27 mm.
* The silicone feet need careful handling as they can be removed with force.
Please allow for slight differences due to the hand made processes. Yours will be just as beautiful as the one shown.
----------------------------------
Also available to order in other colours:
Pink
Satin blue grey
Shiny aqua
Matt blue
Acai matt
Shiny white
Will be ready to ship in 3 - 5 weeks. Please contact me!
----------------------------------
Do check postage costs to your country and see my shipping info. Thank you!
Copyright and Designright Jude Winnall 2017.
Jude Winnall is a member of and supports the work of ACID (Anti Copying in Design). All the intellectual property rights in the designs and products (including the images, text, packaging and marketing material) are and will remain the property of Jude Winnall. Any infringements will be taken seriously www.acid.uk.com